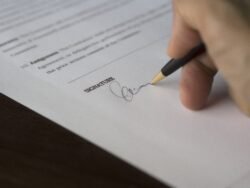 Closing costs are any fees and charges due at the completion of your real estate transaction. Average closing costs in Ontario is usually between 1.5% to 4% of the home purchase price.
Before Closing Day
• Property Appraisal – Lenders like to know if the property being financed is worth as much as the loan advanced. The average cost of home appraisal can range from $300- $500.
• Property Inspection – As a property owner, you should know that there is no issue with your home. If an inspection do turns up troubling results, how much will it cost you to fix. Inspection results also can help you to negotiate the sale price with the seller depending on what is required. On average, inspection charges are around $400-$700.
• Property Insurance – Lender will require that property is insured against fire, or major damage before advancing any funds to you. This amount varies depending on the type of property and coverage obtained.
Closing Day
• Land Transfer Tax (Provincial and Municipal, where applicable) –  This is one of the largest fees associated with the home closing. This amount varies depending on where you live and it is calculated as a percentage of the purchase price. If you are buying a home in the City of Toronto, there is additional Municipal Land Transfer Tax.
• Tax Adjustment – Reimbursement to seller for property taxes they paid beyond the closing date.
• Legal Fees – Anywhere from $850 to $1,500 depending on the amount of time required by the lawyer to close the file.
• Title Insurance – This insurance is to protect you in the event of a property ownership dispute. This can be between $250-$400 and may be part of legal fees.
• Adjustment for Prepaid Utilities/Condo Fees/Property Taxes – Reimbursement to seller for any amount paid past the closing day.
• Mortgage Default Insurance Premium – If you plan to put down less than 20% of down payment, you will need to obtain and pay for mortgage default insurance to protect the lender in case you default on your mortgage payment. You can pay this amount as a lump sum at the closing or choose to blend this amount to your mortgage.
• Tax on Mortgage Default Insurance – Although mortgage default insurance premium can be added to your mortgage, taxes on this insurance must be paid in full at the time of closing.
After Closing Day
• Moving Expenses – Depending on location/distance of your move, this can varies.
• Utility Connect Charges – Varies on providers.
• Repair and Maintenance Costs – This can varies.

Do you have any questions about your mortgage or closing costs, reach out to us.

Tags: