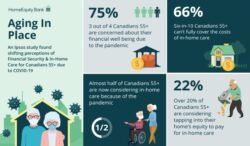 Did you know? More than 90% of Canadians 55+ want to age in at their own home, but new research from Ipsos in Canada shows six in 10 Canadian say they can't fully cover the costs of in-home care. And while 22% of Canadians 55+ plan to tap into their home's equity to cover in-home care costs, even more (30 percent!) say they didn't even know that option is available to them. With a reverse mortgage, you can access the equity from your home while increasing your monthly cash-flow, tax-free.
What is a Reverse Mortgage?
While a conventional mortgage provides funds to you in order to buy a house, a reverse mortgage is just the opposite of that. It provides funds from the house you already own.  Homeowner who are at age 55 or older—can borrow up to 55% of the value of their home.
Homeowner receive tax-free funds either as a lump sum, or as regular monthly funds. It is not added to your taxable income so it doesn't affect Old Age Security (OAS) or Guaranteed Income Supplement (GIS) government benefits you may receive.
You can use the money any way you wish. Maybe you want to enjoy your retirement or cover unexpected expenses. Perhaps you want to update your home or help your family without depleting your current savings. The only condition is that any outstanding loans (e.g. existing mortgage or home equity line of credit) secured by your home must be paid out with the proceeds from your Reverse Mortgage.
No regular mortgage payments are required while you or your spouse live in your home. The full amount only becomes due when you and your spouse no longer live in the home. Interest accumulates on the loaned funds as they are received. The reverse mortgage becomes due – when the last surviving owner dies, if the house is sold, or if the homeowner or homeowners move out of their home.
To maintain eligibility for the loan, the borrower must maintain and remain in the house as their principal residence, pay the property tax bills and keep property insurance in place, but there are no restrictions on the use of the funds.
You maintain ownership and control of your home. You will never be asked to move or sell to repay your Reverse Mortgage. All that's required is that you maintain your property and stay up-to-date with property taxes, fire insurance and condominium or maintenance fees while you live there.
Contact us today if you have any questions on reverse mortgage or if you'd like to see how much you can get!